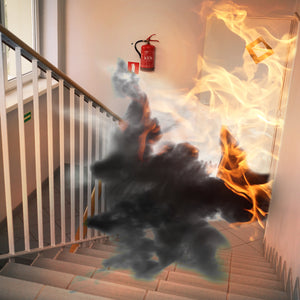 Step Back for Safety Series: Fire Prevention
Understanding the procedures for fire prevention and response is vital to the safety of your workers.

This program introduces workers to the building blocks of fire safety by using the "fire tetrahedron" to demonstrate the conditions that are necessary for a fire to ignite. It also describes preventive measures that workers can take, ranging from good housekeeping to electrical safety.
Workers are also taught how to respond to a fire event by alerting others, evacuating safely, and (if trained to do so) using a portable fire extinguisher to put out a small fire before it spreads. Length: 25 minutes
Topics Include:
Classes of Fire and Why They Matter
Types of Portable Fire Extinguisher
Operating a Portable Fire Extinguisher
Location, Inspection and Maintenance
Languages Available:
Sku: MOX-SB-FirePrevention