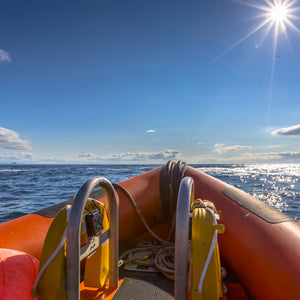 Inflatable Buoyant Apparatus Operations and Use
PLEASE NOTE:
Streaming Videos DO NOT include a record of completion/certificate.
Videos expire 48 hours from the time of purchase.
---
---
This training program is designed as a training guide to the safe installation, deployment and operation of life rafts for the inland waterways and protected waters.
An Inflatable Buoyant Apparatus, or IBA, is a life saving device that is designed and certified for use on Passenger and Commercial Fishing vessels that operate in protected or in-shore waters such as rivers, lakes and protected bays.
The IBA is a self-inflating life raft that is manufactured in different sizes and rated to accommodate 25, 50 or 100 passengers or crewmembers. IBA's may be found on ferryboats, excursion or gaming boats, commercial fishing vessels, or tug and towboats.
Developed with a leading life raft manufacturer, this training, with accompanying written facilitator's guide, is ideal for training current and future employees while on the job and will be an excellent addition to new employee orientations. This program is an essential tool for the training of all crewmembers working aboard vessels equipped with an inflatable buoyant apparatus. Length: 20 minutes
Topics Include:
Explanation of the proper installation of the IBA
Procedures for deploying the IBA
Emergency abandonment procedures
Sku: MOX-MAR-InflatableBu