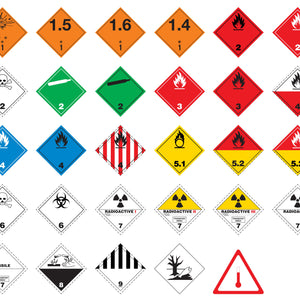 Hazardous Materials Labels
PLEASE NOTE:
Streaming Videos DO NOT include a record of completion/certificate.
Videos expire 48 hours from the time of purchase.
---
---
One important method for identifying hazardous materials is through the use of container labels. From bottles and drums to trucks and railcars, labels and placards provide information about the contents of a container, as well as what to do and who to call in case of an emergency. Because this information is so critical for the safe handling and transporting of these potentially dangerous substances, several organizations have developed labeling and placarding systems to communicate to employees about a container's contents.
"Hazardous Materials Labels" is designed to help employees understand the characteristics of different labeling systems and the ways that each convey information. By recognizing the differences and similarities of these systems, employees will be better prepared to work safely around hazardous materials. Length: 22 minutes
Topics Include:
OSHA's Hazard Communication Standard
The Integration of the Globally Harmonized System (GHS) for the Classification and Labeling of Chemicals into the HAZCOM Standard
Types of Containers Requiring Labels
Department of Transportation (DOT) Hazardous Material Classification
DOT Label and Placard Requirements
United Nations Identification Numbers
The "Hazardous Materials Identification System" (HMIS)
The National Fire Prevention Association (NFPA) Labeling System...and more.
Sku: MG-UnderHazMatLabl