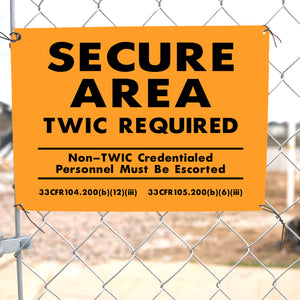 Everything You Need to Know About TWIC (MTSA-Compliant)
This program concentrates on the training aspects of the Maritime Transportation Security Act (MTSA) Amendments and Regulations regarding TWIC implementation.
It is your company‰۪s responsibility to ensure that its employees are aware of their need to apply for and maintain a TWIC. This training program lays out the pertinent information that is absolutely necessary for employers and employees to sail smoothly through the application process. One wrong answer on TSA Disclosure form 2212, can lead to disqualification or denial of an application, delaying your employee from obtaining a TWIC card for weeks.
Topics Include:
Who Must Get a TWIC?
Who Can Apply for a TWIC?
Disqualification Standards
Security Responsibilities for All Levels
Recognition of Forged/Altered TWIC's
Reporting Requirements
Lost/Stolen Card Procedures
Access Control
Definition of Secure Areas
Definition of Passenger, Employee, & Public Access Areas
Knowledge of Relevant Aspects of the TWIC Program
Employee's Responsibility to Apply/Maintain a TWIC
Deadlines and Methods for TWIC Application
Obligation to Inform TWIC of Ineligibility
Integrate Into Existing Access Control Systems
Compliance Dates
Biometric Smart Card Identity Technologies
What Are the Disqualifying Crimes?
What Documentation is Required for a TWIC?
Enrollment Procedures
Enrollment Payment and Fees
Appeals and Waivers Process
How Long is the TWIC Card Good For?
Will These Rules Affect All Merchant Mariners?
Is TWIC Required For Rail, Trucking or Airport Employees?
Sku: MOX-TS-TWIC