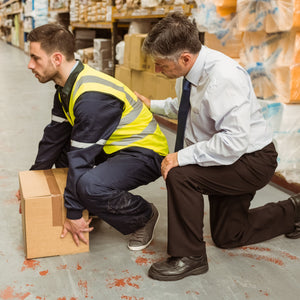 Materials Handling Safety
PLEASE NOTE:
Streaming Videos DO NOT include a record of completion/certificate.
Videos expire 48 hours from the time of purchase.
---
---
"Materials handling" is how the things that people need get to where they're needed, on time and intact. And these activities can be dangerous. Every year, thousands of workers are killed or injured while moving, stacking and storing materials. But these accidents don't have to happen.
"Materials Handling Safety" discusses the hazards that employees are likely to encounter, and explain the work practices and equipment they can use to control or eliminate these hazards. Length: 19 minutes
Topics Include:
Preparing yourself to work safely.
Understanding "ergonomics".
Safe lifting… step-by-step.
Hand trucks and dollies.
Platform trucks, carts and pallet jacks.
Forklift safety.
and more.
Sku: MG-Materials-Hand-Safety